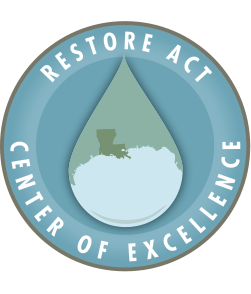 Restore Act

Center of Excellence
Contact

la-coe@thewaterinstitute.org
The mission of the RESTORE Act Center of Excellence for Louisiana (LA-COE) is to provide research directly relevant to implementation of Louisiana's Coastal Master Plan by administering a competitive grants program and providing the appropriate coordination and oversight support to ensure that success metrics are tracked and achieved.
The Coastal Master Plan is a guiding document for the Coastal Protection and Restoration Authority (CPRA), developed using the best available science and engineering, that focuses efforts and guides the actions needed to sustain Louisiana's coastal ecosystem, safeguard coastal populations, and protect vital economic and cultural resources. LA-COE is sponsored by CPRA and administered by the Water Institute of the Gulf, a not-for-profit, independent applied research institute dedicated to providing advanced understanding and technical expertise to support management of coastal, deltaic and water systems, within Louisiana, the Gulf Coast and around the world.
RFP2 is now open for submissions
The LA-COE has released a second Request for Proposals and is encouraging coastal researchers to apply for $2.3 million in competitive grant money. Projects submitted for these two-year awards must support research directly related to the implementation of Louisiana's Coastal Master Plan which guides the state's coastal restoration and protection work.
To learn more about RFP2 or to submit a proposal, please visit our Research Grants page.
To learn more about projects funded by the LA-COE RFP 1, please visit out Funded Research page.
Administration
COASTAL PROTECTION AND RESTORATION AUTHORITY
The Coastal Protection and Restoration Authority (CPRA) is Louisiana's single state entity with authority to articulate a clear statement of priorities and to focus development and implementation efforts to achieve comprehensive coastal protection for Louisiana. Its mandate is to develop, implement, and enforce a comprehensive coastal protection and restoration master plan (the Coastal Master Plan). CPRA is LA-COE's project sponsor and contract manager with ultimate responsibility over LA-COE. CPRA works with LA-COE to develop the Standard Operating Procedures, Research Strategy, and Requests for Proposals, and is involved in aspects of proposal review and selection, depending on the specifics of any Request for Proposals issued.
THE WATER INSTITUTE OF THE GULF
LA-COE is a separate program within the Institute's existing organizational structure. Key functions of LA-COE include: coordination of committees and working groups; support of the development of operational procedures, a Research Needs document to support implementation of the Louisiana Coastal Master Plan, and development and issuance of Requests for Proposals; oversight and administration of a competitive grants process; management of research grants; monitoring of research progress; establishment of and monitoring of adherence to appropriate data management practices; and reporting on progress using success metrics. Key personnel responsible for LA-COE activities and oversight are:
Melissa M. Baustian, Ph.D., coastal ecologist at the Institute, serves as director
Alyssa Dausman, Ph.D., Vice President for Science, serves as the chief scientist of LA-COE
Bingqing Liu, Ph.D., Postdoctoral researcher, serves as deputy director
Advisors
EXECUTIVE COMMITTEE
The Executive Committee is comprised of senior research officials from Louisiana's universities and research organizations, and is weighted towards those with a strong historic focus on coastal issues, including:
Louisiana State University – Samuel J. Bentley
Tulane University – Giovanni Piedimonte
Nichols State University – John Doucet
University of Louisiana at Lafayette – Ramesh Kolluru
University of New Orleans – Matthew A Tarr
Louisiana Universities Marine Consortium – Craig McClain
Southeastern University – Robert Moreau
Southern University – Dr. Calvin Walker
External Review Board
The External Review Board is a group of independent scientists and engineers from universities located outside of Louisiana convened to provide technical feedback on the Research Needs document, to serve as a panel for proposal review, and to provide outside perspective on the program. These individuals are not permitted to apply for research funding.
Technical Working Group
The Technical Working Group is somewhat temporary in nature and is composed of subject matter experts from Universities within Louisiana and works with LA-COE staff to develop the Research Needs document. These individuals are allowed to compete for research funding.