The RESTORE Act Center of Excellence for Louisiana (LA-COE) is requesting proposals for research to support implementation of Louisiana's Coastal Master Plan. Please follow the link below to find forms, submission links, and frequently asked questions
Learn more about RFP2
RESEARCH NEEDS
The mission of LA-COE is to support research directly relevant to implementation of Louisiana's Coastal Master Plan by administering a competitive grants program and providing the appropriate coordination and oversight support to ensure that success metrics are tracked and achieved. LA-COE is a separate program within The Water Institute of the Gulf, which is a not-for-profit, independent research institute dedicated to advancing the understanding of coastal, deltaic, river, and water resource systems, both within the Gulf Coast and around the world.

The research priorities for this competitive grants program cover the following five topic areas:
Topic 1: Hydrology and Hydrodynamics of Riverine, Estuarine, and Coastal Systems
Topic 2: Estuarine and Coastal Ecology
Topic 3: Geotechnical, Structural, and Coastal Engineering
Topic 4: Deltaic Geology, Geomorphology, Subsidence, and Sediment Dynamics
Topic 5: Human Dimensions
The LA-COE Research Needs document expands on these key research needs, including articulation of the scientific and technical problems underlying these needs and potential outcomes. The Research Needs document was developed in coordination with a technical working group comprised of researchers from Louisiana academic institutions, the Coastal Protection and Restoration Authority (CPRA), The Water Institute of the Gulf, an external review board, and public feedback.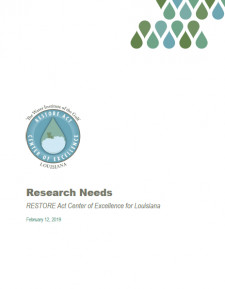 Louisiana's Comprehensive Master Plan for a Sustainable Coast 2017
Funded Research
On June 22, 2017, The RESTORE Act Center of Excellence for Louisiana announced almost $3 million in funding through the first RFP process to support 13 research, collaborative, and graduate studentship projects. All projects were completed by the fall of 2020 and the details of those awards, results, reports, and data as well as how this research can inform Louisiana Coastal Protection and Restoration's Coastal Master Plan can be viewed on our Funded Research page.
Explore Research Funded by LA-COE