Collaboration Hub
Collaboration is key to the Water Institute's efforts to innovate and advance science and engineering. Not only do we depend on strong collaboration with our partners, but also we also look to strengthen our partners through collaboration.
The Water Institute actively participates with government, academia, industry, and communities to advance science and knowledge on the complex environmental and societal challenges that we study.
Interested in partnering with the Water Institute?
Contact Us

partner@thewaterinstitute.org
Coastal Innovation and Collaboration Hub
PARTNER: State of Louisiana
In 2020, Louisiana governor John Bel Edwards named the Water Institute as the state's Coastal Innovation and Collaboration Hub. In this role, the Water Institute acts as the focal point bringing together scientists, government agencies, nonprofits, and communities to address some of the big picture questions facing Louisiana's coast.
The initial work focuses on three areas: Working with state agencies to create a state model repository, identifying and coordinating solutions for science needs of the Atchafalaya Basin Program, and collaboration with the Coastal Protection and Restoration Authority on the Lowermost Mississippi River Management Program which is working evaluate a holistic approach to managing the River for navigation, flood, protection, economic prosperity, and ecological restoration.
Additional Collaborations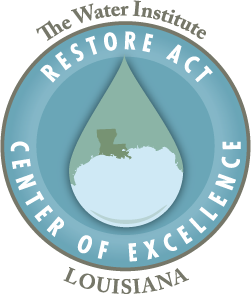 The RESTORE Act Center of Excellence for Louisiana (LA-COE) funds research directly relevant to Louisiana's Coastal Master Plan by administering a competitive grants program and coordinating support to ensure that success metrics are tracked and achieved.
LA-COE is sponsored by CPRA and administered by the Water Institute. It is guided through an Executive Committee comprised of senior research officials from Louisiana's universities and research organizations, and is weighted towards those with a strong historic focus on coastal issues.
In addition to the partnerships listed above, the Water Institute has Memorandums of Understanding with several organizations across the country and around the world, including (past and present):